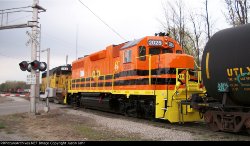 Welcome to the RRPictureArchives.NET contributor site of Justin Jahr.

Hello all and welcome to my collection of pictures. I am no pro at taking pictures and I still learn new things everytime I shoot new photos, but my work so far is great by my standards. Most of my work is located in the Bay City, MI area, I do however get to other places and grab some shots. I have put together numurous albums containing my collection of photos, fee free to comment on any of them, if you have any questions about my photos are would like to send me seggestions or corrections also feel free to do so. I do take instructive criticism and I believe this is the reason why we share our photos.

You may browse my collection of pictures via the menu located on the left hand side of the page. I hope you enjoy the collection and thanks for stopping by!
Note: This site is best viewed in Internet Explorer 6.0 or above.
Select one of the links from the menu on the left to begin browsing the collection.